Flash Video Poker - No Download Video Poker Games
Video Poker is an exciting form of online gambling that is both entertaining and stimulating.
Video Poker without download
is offered in many variations and coin denominations, and even the amount of hands you can play at a time in any
flash casino on this website
.
How to play Video Poker?
The rankings of the hands are the same as in the common Poker game but depending on which type of Video Poker you play. To start you make a bet. Then you press the deal button. Decide which cards you want to hold which to discard. Then press the deal button again. You get paid if you have a winning hand.
History of Video Poker
The first games that can be called Video Poker was played at home on Personal Computers in the 1970s.
In the 1980s Video Poker machines became more and more popular in casinos. Nowadays you hardly can imagine a bar in a casino without a Video Poker game built in.

Video Poker without Download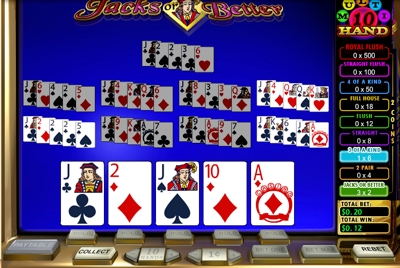 10 Hands Multihand Video Poker at
Casino Classic
. This flash casino has a very good range of variations of the game.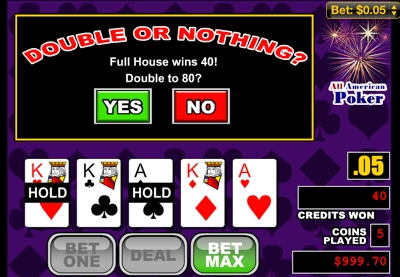 This screenshot shows the double up feature of the game All American Video Poker at
Old Havana Casino
.


Top Flash Casino Reviews


Variations of the game Video Poker

Tens or Better Video Poker
The lowest winning hand is a pair of Tens.

Deuces Wild Flash Video Poker
adds a Wild Card feature, with all the deuces as the Wild Card. With these wild cards come some additional ranking hands, such as 5 of a Kind, 4 Deuces, and Royal Flush with Deuces.
The lowest ranking hand is Three of a Kind.

Jacks or Better Flash Video Poker
is the basic poker game with the hand ranking beginning at a pair of Jacks or Better and the highest hand is the Royal Flush.

Joker Poker Flash Video Poker
has one Wild Card, the Joker. The lowest ranking hand is a pair of Kings and there are two additional ranking hands, Five of a Kind and Royal Flush with Wild.

Aces and Faces Flash Video Poker
has several new hand rankings but no wild card. You score extra points for getting certain Four of a Kinds. Four Jacks, Queens and Kings pay you up to 200 coins when max is bet, 4 Aces will pay you up to 400 coins when max is bet. All other Four of a Kinds will pay up to 125 coins when max is bet.
The lowest ranking hand is a pair of Jacks or Better.

Multi Hand Video Poker - Power Poker
This Video Poker game let's you play several hands at once. Usually you can play 10, 50 or 100 hands in one game. Several types of Video Poker games are available as Multihand Video Poker. Most flash casinos offer at least Jacks or Better as a multihand version.